OKI label printers grab attention at Gulfood Manufacturing 2021
Labelgraff labelling and packaging solutions demonstrated OKI's label printers at Gulfood Manufacturing 2021 held at Dubai World Trade Centre from November 07 to 09, 2021. Visitors had an opportunity to learn the specifications of OKI's two popular models of roll-to-roll label printers - Pro1050 and Pro1040. OKI claims that Pro1040/ Pro1050 roll-to-roll label printers are ideal for complex on-demand label production on a wide range of label media.
According to Labelgraff's official website, OKI's Pro1050 Label Printer offers and high-quality label printing. It is easy to set up and requires minimal training to use. With the unique ability to print in 5 colours (CMYK+White), the Pro1050 provides users with the enhanced flexibility of printing on transparent or coloured label media. They add that using digital LED together with dry toner technology, the Pro1050 offers a unique fifth colour or 'CMYK+W' option, allowing for greater flexibility in your label design. Profitable on-demand in-house label printing, fifth colour or CMYK+W option to bring a new colour dimension to labels, versatile media handling and water/chemical and UV fading resistant printing are the major features of OKI Pro1050 Label Printer.
Labelgraff website mentions that OKI's Pro1040 Label Printer is a four-colour narrow format label printer that is easy to set up and requires minimal training to use. It is built to meet the needs of customers who desire a wider choice of label designs. The Pro1040 Label Printer offers professional four colours narrow-format printing across a variety of different label media, including textured papers and synthetics. On-demand, short-run colour label printing capability to drive new revenue streams, ability to generate eye-catching labels, media flexibility to easily print on a huge range of label media and producing water/chemical and UV fading resistant labels are the primary peculiarities of OKI Pro1040 Label Printer.
Labelgraff is a division from Multisystem Technology, specialising in providing digital solutions in the labelling and packaging industry with unlimited wide applications for targeted vertical markets in the Middle East and African countries.
YOU MIGHT ALSO LIKE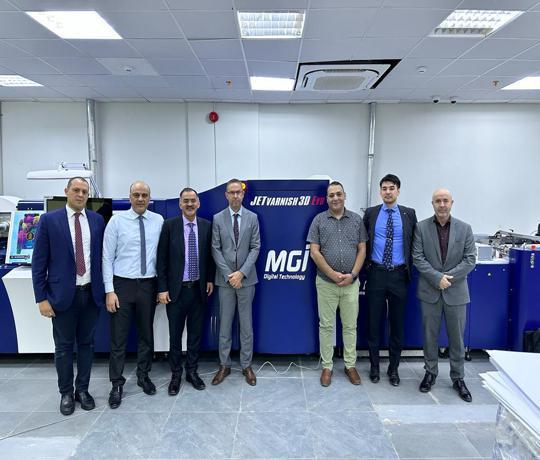 Feb. 2, 2023
Feb. 2, 2023