Fujifilm announces a new collaboration with Giffin Graphics for Print on Demand Solution (POD).
Fujifilm Middle East has expanded its powerful product lineup with digital press using dry toner technology by launching two production printer models under the new Revoria brand, namely, Revoria Press PC1120, a one pass six color printer for the high end professional printing market, and Revoria Press E1 Series, a monochrome production printer for POD. Gradually, the full line up of the Revoria product s will be released during 2022, and officially the two new models are set to be available to order by Octo ber 2021. These products will be sold through the company's new collaboration partner, Giffin Graphics."
"We are delighted to have a collaboration with Giffin Graphics in the POD segment. Their expertise and direction to deliver the highest quality standar ds in sales and service support will provide us with the opportunity to introduce POD solutions in the GCC region," said Michio Kondo, Managing Director of Fujifilm Middle East. Together with Giffin Graphics, we are committed to support ing customers in th e printing industry to transform business challenges to future growth through innovative products and services."
Giffin Graphics is a leading provider of high quality machinery, products and after sales service for the Middle East's printing and graphic arts industry. The company specializes in a diverse portfolio of products and services, which includes digital machinery, papers and supplies, and other print based services. The company has reinforced its position in the sector with over four decades' wor th of experience. Its success is founded on its traditional corporate values. Giffin Graphics impressive portfolio features a very advanced stream of printing specialized business and activities showcasing the company's innovative and forward thinking model.
Giffin Graphics headquarter s is located in Abu Dhabi , with eight branches across the GCC to better reinforce its position as one of the most trusted companies in the industry. Beyond that, the Revoria series epitomizes the center of excellence in pri nters using dry toner technology.
The Revoria series of products is brought by a Fujifilm Group company, FUJIFILM Business Innovation Corp. a market leader in production printing in Japan and the Asia-Pacific region with decades of excellence in developing printers using dry toner technology.
Fujifilm Middle East introduces Revoria Press PC1120, which can increase productivity with new applications of AI & Automation technology, enable automatic image corrections, and print at a high speed of 120 pages per minute, with specialty color toners allowing high quality printing for metallic and natural skin textures. Meanwhile, the Revoria Press E1 Series is equipped with copy & scan functions for office work, automatic correction for image quality, along with the capability of printing at a speed of 136 pages per minute, and can handle different types of paper.
Finally, POD is a competitive field for business owners all around the globe, so they need fast delivery of services, and a trustworthy purchasing experience, and that's exactly what the collaboration between the Fujifilm Group and Giffin Graphics has to offer.
YOU MIGHT ALSO LIKE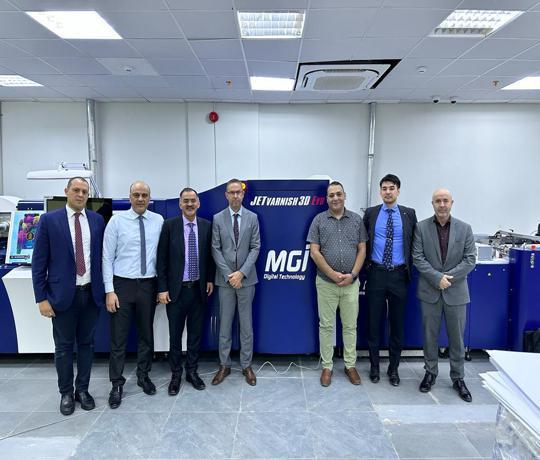 Feb. 2, 2023
Feb. 2, 2023