AccurioLabel 230 (AL230)
AccurioLabel 230 (AL230)
What Is the Machine Capable Of?
Digital Label Printer AccurioLabel 230 with its superb productivity, image quality and operability as well as its economical features is ideal for those wishing to gain a foothold in the label market and require parallel use with existing analogue presses.

The AL230 improves overall productivity and job acceptability, especially with overprinting capabilities on pre-printed transparency or coloured media. This allows it to meet the demands of digital printing businesses such as shorter turnaround times and expansion of print applications.

High image quality is realized by Konica Minolta's unique technology through faithfully facing high-level needs in the digital print market. Colour fluctuation is controlled within the minimum under various conditions, this ensures a stable and beautiful finish from the first to the last print. The high image quality of the AL230 adds value to printed materials and generates additional advantages to printing services.

When was the machine launched and what market is it aimed at?
The AL230 was launched in the Middle East market in the last quarter of 2019.

How does the AL230 work?
The product is a combination of legacy Konica Minolta Print Technology and media handling from the world's leading manufacturers of label media handling and finishing. The print engine is based on Electrophotography Technology utilizing CMYK Colors. The print engine receives input through Konica Minolta's own print controller and can be combined with Konica Minolta's AccurioLabel Impose for imposition.
What does the Konica Minolta AccurioLabel 230 do?
AccurioLabel 230 (AL230) is a digital label printing system that offers enhanced productivity, job flexibility, operability, and excellent image quality with affordable system cost. It is a perfect fit for business expansion and parallel use with existing analogue presses.
How does the new model differ from the AL 190?
AL230 offers overprinting capability with accurate registration at a speed of up to 23.4 meter/minutes and has short warm-up time, which not only minimizes job switching time, but also paper waste.
How Productive is the AL230?
Continuous highest quality 1200 x 1200 dpi print runs of up to 1,000 meters can be achieved without the need for recalibration. The time taken between jobs has also been eliminated, increasing productivity further.
What is the USP of the product?
The AL230 can print at a maximum speed of 23.4 meter/min, ensuring productivity. It is capable of excellent image quality and thanks to the sophisticated colour management features, it can deliver superb colour stability.
How easy it is to use?
Compared not only to flexography, but also liquid development and inkjet printers, AccurioLabel 230 ensures ease of maintenance. Tasks that take time on analogue machines such as colour adjustments can be performed with ease on a digital machine. The ability to perform operations simply by following on-screen instructions makes it possible to operate the machine with little time needed for training.
What service support is on offer?
Service support ranges from full comprehensive services to various other service options. Our dedicated distributors in each country will be happy to discuss and tailor a service plan best suited to the customers' needs.
Specifications
Machine web width: 345 mm / 445 mm
Printing speed: Max 23.4 m/min
Printing resolution: 3600dpi (equivalent) x 1200dpi / 8-bit
Printing width: 250 to 330 mm
Substrate types and thickness: 81 to 256 gsm
YOU MIGHT ALSO LIKE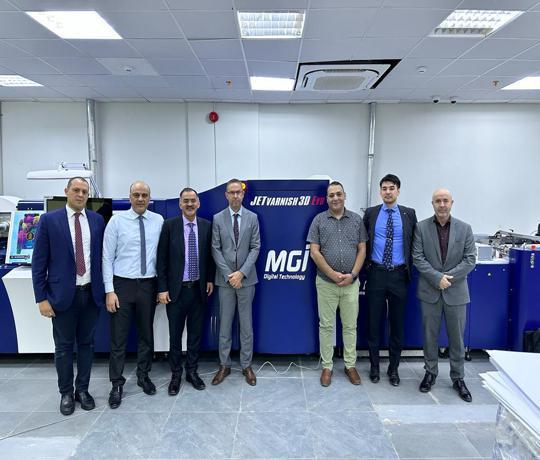 Feb. 2, 2023
Feb. 2, 2023