Mutoh EMEA Extends XpertJet Pro Range with XpertJet 1682SR Pro Sign & Display Productivity Printer
New printer features AccuFine HD 3200 nozzle heads and new generation hazard-free GREENGUARD Gold certified MS51 inks
Mutoh Europe nv, EMEA business unit of Mutoh Industries Co. Ltd., Japan, today unveiled the XpertJet 1682SR Pro (64" – 1.6 m) high productivity twin head sign and display printer targeted at long term outdoor/indoor sign & display and commercial print applications. The new XPJ-1682SR Pro carries two AccuFine HD print heads, each with 3200 nozzles, a new weaving algorithm and Mutoh's genuine VerteLith RIP software to deliver a significant improvement in both print quality and print speed. The XPJ-1682SRP is ideally suited for high productivity environments, delivering high quality production speeds up to 35 m²/h. The new printer also integrates automatic alignments to ensure uninterrupted production and consistent quality.
Particularly interesting to users is that the printer will be launched with Mutoh's new MS51 quick dry CMYK inkset. Mutoh MS51 inks fulfill the requirements of today's sign professionals with regards to indoor and outdoor signage applications, yet do not require health and safety pictograms and are also gBL free. As such they can be used in office, home and retail environments. Compared to traditional sign and display inks, they offer the same colour gamut, excellent gloss preservation and weather resistance, abrasion and chemical resistance with UV durability up to 3 years without lamination. There is also no additional printer maintenance required. Mutoh MS51 inks are also GREENGUARD Gold certified. Certification was obtained for the category Wallpaper, which means that output can be used at full room coverage, even in sensitive environments such as schools and hospitals.
Engineered and manufactured in Japan, the XPJ-1682SR PRO brings together the very best of Mutoh proprietary technologies for drop accuracy and therefore print quality:
Mutoh's new AccuFine HD extra-wide 3200 nozzle print head technology
i-screen weaving, Mutoh's fourth generation Intelligent Interweaving technology
Mutoh's genuine VerteLith RIP software
These technologies have been designed to work seamlessly together to give users the most accurate drop-placement in the industry and they are all on-board the new XPJ-1682SR PRO. The new print head guarantees improved droplet quality, along with more accurate drop positioning. The i-screen weaving algorithms as implemented in the firmware of the Mutoh Pro class engines exploit the increased droplet quality to suppress banding even more. The VerteLith proprietary Mutoh screening, called Clear Tone, employs the improvements to the printer and print head to deliver even better gradients and skin tones, even in 4-colour setup, free of any noise.
Key fact is that users will gain significant quality and speed advantages over the previous models in all production print modes.
The XPJ-1682SR Pro twin head printer is an addition to Mutoh's existing XPJ-1341SRP and XPJ-1641SRP single head models released in January. The printer will be marketed by Mutoh Europe throughout the EMEA business area through its existing network of certified distributors.
YOU MIGHT ALSO LIKE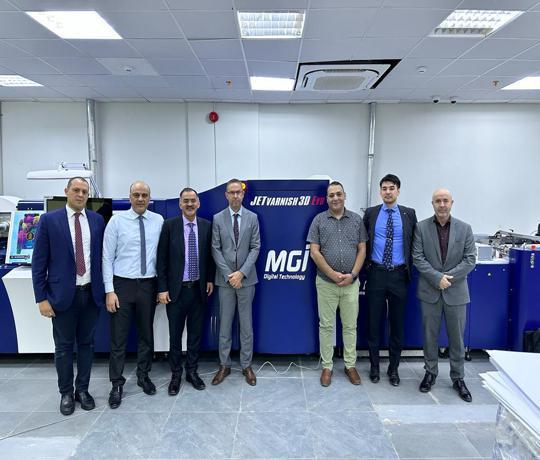 Feb. 2, 2023
Feb. 2, 2023